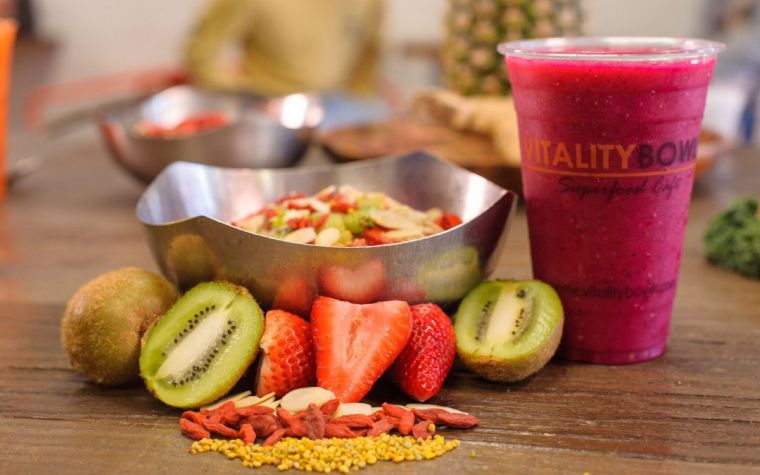 #1 AÇAÍ BOWL IN THE USA! Our product is simply the best.
Why Vitality Bowls
Vitality Bowls is an 800 – 1,500 sq. ft. Superfood Café focused on delivering top quality organic Açaí, Acerola, Pitaya and Graviola Bowls®, smoothies, fresh juices, soups, salads, and panini. Vitality Bowls® are enjoyed for breakfast, lunch, dinner, snack, or dessert.
We are growing! Each month, we have new Vitality Bowls cafés opening in new markets across the country, as more and more entrepreneurs excitedly bring the health to their communities.
We created this company because of our strong commitment to bring health and wellness to every community across the country through fresh, high-quality superfoods. This philosophy has guided everything we do and we strive to instill the same health-minded values to our employees and customers.
A Superfood Cafe: Vitality Bowls® Revolutionizing Acai Bowls®
Our menu items are made fresh to order without any trans fats, high fructose corn syrup, fillers, added sugar or any artificial preservatives. We believe in giving our patrons the best, carefully crafted, truly healthy food.
At Vitality Bowls®, we strongly support our local communities. We've hosted Deaf Nights with a portion of sales benefiting the California School for the Deaf. We also donate monthly to the Contra Costa Food Bank. We continually support and make donations to local schools and charities whenever possible.
We run our business in a way that doesn't cut corners and only offers the best and freshest ingredients. It is this philosophy that guides every decision we make at Vitality Bowls®.
If you've ever wanted to own a food and beverage business that serves dishes you're proud to put your name behind, Vitality Bowls® is the right opportunity for you. We focus on real healthy superfoods, healthy lifestyles, and super-healthy franchises.
How We Support You
Real Estate: We guide franchise owners on appropriate demographics and fair leases as well as help negotiate a fair cost-per-square-foot.
Construction: We have pre-approved vendors to help design and construct your Vitality Bowls Superfood Café so that it's affordable and on time.
Accounting: We train our franchise owners on how to understand things like managing their P & L's, cost of goods, labor and everything in between.
Training: Your 14-day initial training takes place at our headquarters in Walnut Creek, CA. We will also travel to your location during your opening to ensure that everything goes smoothly.
Ongoing Field Support: As needed, we will continue to periodically visit your location to ensure your store is consistently running efficiently.
Monthly Meetings: By meeting monthly, we help ensure you have consistent access to our founders and their experience, learn about recent company innovations, as well as hear what's working well with other franchise owners.
Advertising: We train and assist our franchise owners with a variety of marketing mediums to ensure that your local Vitality Bowls is known to your communities, from public relations, to social media and direct mail.
Our Franchise Owners
The most successful Vitality Bowl franchise owners are health-minded, nutritionally conscious, energetic and focused on the customer experience. We look to partner with those who have management experience that includes performance management, hiring and developing/inspiring teams. Owners typically spend the first 3-6 months in their stores, learning the ins and outs of the business.
Start Your Vitality Bowls Franchise Today!
The demand for our products is huge, and continues to grow by the day. The world is in need of healthier food options that don't taste like rabbit food. Our goal is to deliver our delicious superfoods in every market possible.
Vitality Bowls Franchise - The Healthy Food Choice
Being an owner at Vitality Bowls for almost a year now has been a very gratifying experience for me and my family. When we started the process, it was clearly evident that their mission, purpose and values matched those I was passionate about. Through this journey, I have learned that we live in a rapidly changing environment and Vitality Bowls is constantly changing as well. I remember joining when only one franchise store was opened, and to watch the growth and scale of Vitality Bowls now, makes me proud to be part of the family. I know this franchise has the potential to continue to great things and I am so excited to be part of this incredible journey.
What I love most about owning a Vitality Bowls franchise is the Human Connection. This is why becoming a Vitality Bowls Franchisee has been so rewarding both spiritually, mentally and financially. Through our delicious superfood experience, we have created great relationships with our customers and formed a sense of community. Vitality Bowls has started a movement in our community to really celebrate healthy, clean eating! Food is medicine. It has the ability to heal and we educate and explore this perspective with our customers. Our Vitality Bowls team, along with myself, have connected with hundreds of customers and through their stories. Our passion for healthy food has created a positive and strong bond that continues to grow stronger and touch the lives of the Lubbock Community.
Dana is a nuclear electrician turned Vitality Bowls franchise owner. As a coach for her kids' sports teams, she was constantly driving to and from games and wanted a healthy alternative to fast food restaurants. In May 2016 she decided to open a Vitality Bowls in her hometown of Roseville, CA. Drawing from her nuclear electrician background, she knows that to be proficient at something like sports or a healthy body, you need to practice and work hard. That includes putting the right food in your body and creating that healthy food is what she loves best about owning a Vitality Bowls.